If you want to buy Bitcoin online, you will need to use a cryptocurrency or Bitcoin broker. The process is super-easy, and merely requires 10 minutes of your time. Simply open your Bitcoin account with your chosen Bitcoin broker, deposit funds, and that's it.
With that said, knowing which cryptocurrency broker to sign up with is no easy feat, as there are now hundreds to choose from. In this article, we explore the best 12 brokers to buy Bitcoin in 2022. We explain key metrics such as the broker's regulatory status, supported payment methods, tradable coins, and minimum deposit.
On this Page:
Contents [show]
Our Recommended Bitcoin Brokers for March 2022
If you don't have time to read through our top Bitcoin broker picks, we would suggest opting for eToro. The regulated brokerage platform allows you to buy Bitcoin with PayPal and other methods, such as a debit/credit card, Paypal, Skrill, or a local bank transfer. Fees are also competitive, as the broker does not charge any trading commissions.
Top 12 Cryptocurrency Brokers 2022
So now that you know what to look out for when choosing a Bitcoin broker, you'll be sure to find a platform that best meets your long-term investing goals. However, if you don't have time to perform your own research, why not consider the merits of the recommended brokers listed below? Each broker meets our strict set of requirements, such as holding at least one tier-one regulatory license, low fees and commissions, high trading volumes, and heaps of everyday payment methods.
1. eToro – Best Overall Bitcoin Broker 
Our top pick for the best Bitcoin broker is eToro due to several factors. For one, eToro uses a highly intuitive and simplistic user interface that makes it possible for anyone to buy and sell cryptocurrencies instantly. It also operates as a zero-commission crypto broker, which means you will only pay for the spread and nothing else.
In terms of fees, eToro charges a low deposit fee of 0.5% for all supported payment methods, including bank wire transfer, credit/debit cards, Neteller, Skrill, PayPal, Trustly, and several others. Minimum deposits are segmented according to a user's region, and you will only pay a small withdrawal fee of $5.
On regulatory and safety of user funds, eToro is top-notch as it is regulated by tier-1 global bodies like the UK's Financial Conduct Authority (FCA), Australian Securities and Investment Commission (ASIC), Cyprus Securities and Exchange Commission (CySEC), and the Financial Industry Regulatory Authority (FINRA).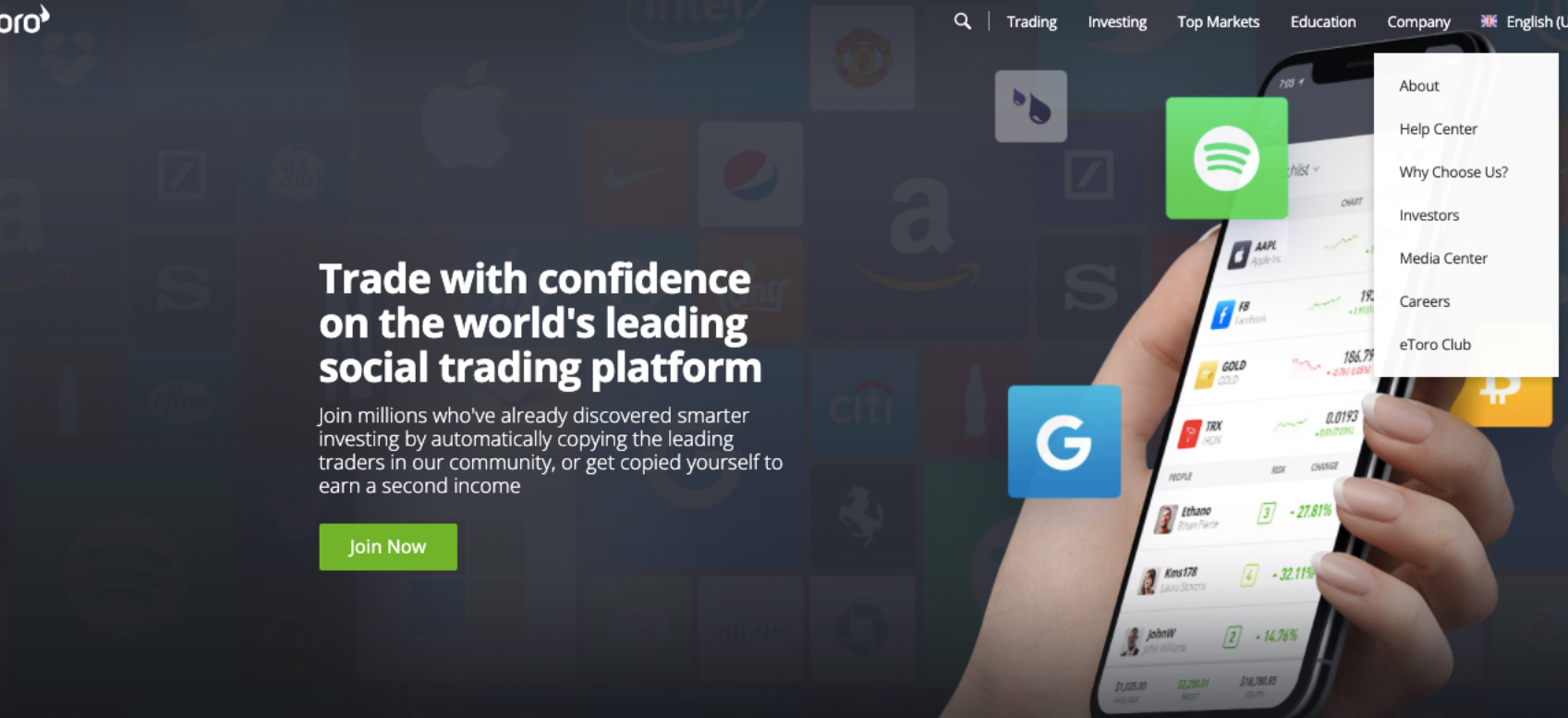 This means that your details and funds are safe. eToro has never been privy to a system hack as it employs some of the strictest security protocols to ensure that no malicious attack steals users' funds or details.
eToro's super-powers lie in its CopyTrade and CopyPortfolio functionalities. Operating as a social network for traders, eToro lets new users copy the successful traders of more advanced investors according to the amount they invest.
This has the dual benefit of ensuring profit maximization as well as mitigating potential losses. Also, the CopyPortfolio offering allows users to properly diversify their investment basket across several sectors and regions while automatically rebalancing it according to the best performing sectors.
Aside from Bitcoin, eToro also supports several other popular cryptocurrencies, including Ethereum, XRP, Litecoin, and several others and enables fiat-to-crypto (ETH/USD) as well as crypto-to-crypto (XRP/ETH) pairs.
Additionally, eToro offers CFD products for cryptocurrencies, enabling users to trade the small price changes without holding the underlying asset. This can be a great choice for you if you do not have enough knowledge about cryptocurrencies yet.
Regulation: FCA, ASIC, CySEC, FINRA
Special Features: CopyTrade and CopyPortfolio
Demo Account: Yes
Educational Material: Loads of educational materials for new users
Fees: Zero trading commissions, Low spreads
Minimum Deposit: $50 for US and UK users, $200 upwards for other regions
Volume: High liquidity volume
Deposit and Withdrawal Conditions: Minimum withdrawal of $50
Payment Methods: Credit/debit card, Paypal, Sofort, Rapid transfer, Skrill, Wire transfer, Neteller, WebMoney, UnionPay
Pros
Buy Bitcoin outright or trade BTC CFDs
Social and copy trading leader
Paypal accepted
Cons
Limited technical analysis tools
Not well-suited for the more advanced investor
Your capital is at risk.
2. Huobi – Trusted Bitcoin Broker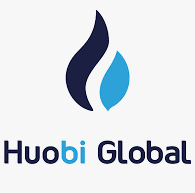 Huobi is one of the world's largest Bitcoin brokers, originally based in Beijing but now headquartered in Singapore. This broker accepts both ICO tokens and digital currencies and focuses on the Blockchain economy's future development.
The main Huobi Pro exchange holds over 100 leading cryptocurrencies on its platform. Registered users can easily pick their desired cryptocurrency pairs and trade them on the platform.
The Huobi website, like many others, is simple to use and strikes a good balance of functionality, visual appeal, and elegance. Within the trading interaction, there are appropriate price feeds, charting tools, and market depth data that are structurally organized.
This leading Bitcoin broker provides many types of orders to be executed on its platform, including market order, limit order, and stop-limit order.
Margin trading in Bitcoin (BTC) is also supported on Huobi, with 5x leverage and a 0.1 percent fee for 24 hours. Huobi offers a variety of robust security mechanisms to protect users' accounts, such as 2-factor authentication, which is available for both SMS and Authenticator apps.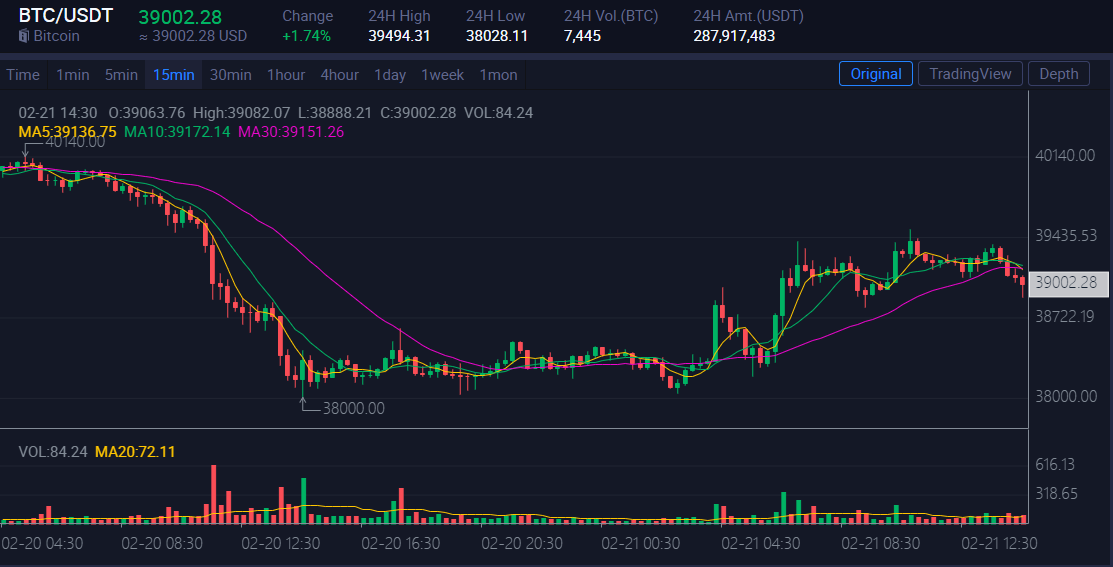 Flash Trade is among Huobi's most innovative features, combining an order book, a chart index, and a market chart. The Flash Trade allows users to experiment with real-time trading volume, which is especially useful during moments of high volatility. There have been no reports of hacking or data leaks among Huobi users.
The exchange offered to help other smaller Bitcoin exchanges that had previously been hacked, such as Bitmart in December 2021, enhance their security protocols. Although Bitcoin cannot be staked, Huobi provides crypto staking on a variety of other coins and tokens for greater annual output.
Regulation: Gibraltar Financial Services Commission (GFSC)
Special Features: Flash trading, exceptional security measures, customer support
Demo Account: Yes
Educational Material: Strong in this department
Fees: 0.2%
Minimum Deposit: 100 USD
Volume: High trading volume
Deposit and Withdrawal Conditions: There is a maximum limit on withdrawal, beyond which you are not allowed to withdraw in a single day.
Payment Methods: credit/debit card, Sepa transfer
Pros
User-friendly interface
Supports over 300 cryptocurrencies and tokens
Offers high leverage margin trading
Responsive customer support team
Advanced security protection
Cons
0.2% maker / taker spot trading fee
Time-consuming verification process
Your capital is at risk
3. Crypto.com- World's fastest-growing Bitcoin broker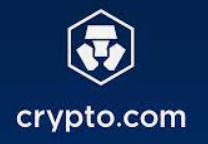 Crypto.com was established in 2016 with the goal of meeting the requirements of the clients with its one-of-a-kind package of cryptocurrency-related financial products.
Promoted in advertising by actor Matt Damon, Crypto.com exchange now operates in over 90 countries and has a user base of more than 10 million people, popular as users can earn interest on crypto on the platform.
This Bitcoin broker displays a variety of investment options to every investor, including crypto trading, staking, NFTs, and much more. Apart from Bitcoin, it offers over 250 different currencies, reasonable fees, and reasonable discounts to users who own a substantial amount of Crypto.com Coin (CRO).
Crypto.com's mobile app, which is available for free download on both Android and iOS devices, is easily accessible to all of its users. If you're accustomed to trading stocks via a mobile app, the experience should be simple and intuitive. Apart from it, if the total monthly trading volume is less than $25,000, users must pay only 0.4 percent of fees on their trades.
It provides cryptocurrency credit cards, cryptocurrency wallets, and an NFT marketplace. Users can also stake their cryptocurrency or keep it in a Crypto.com wallet for a specified period of time to earn up to 14.5 percent interest.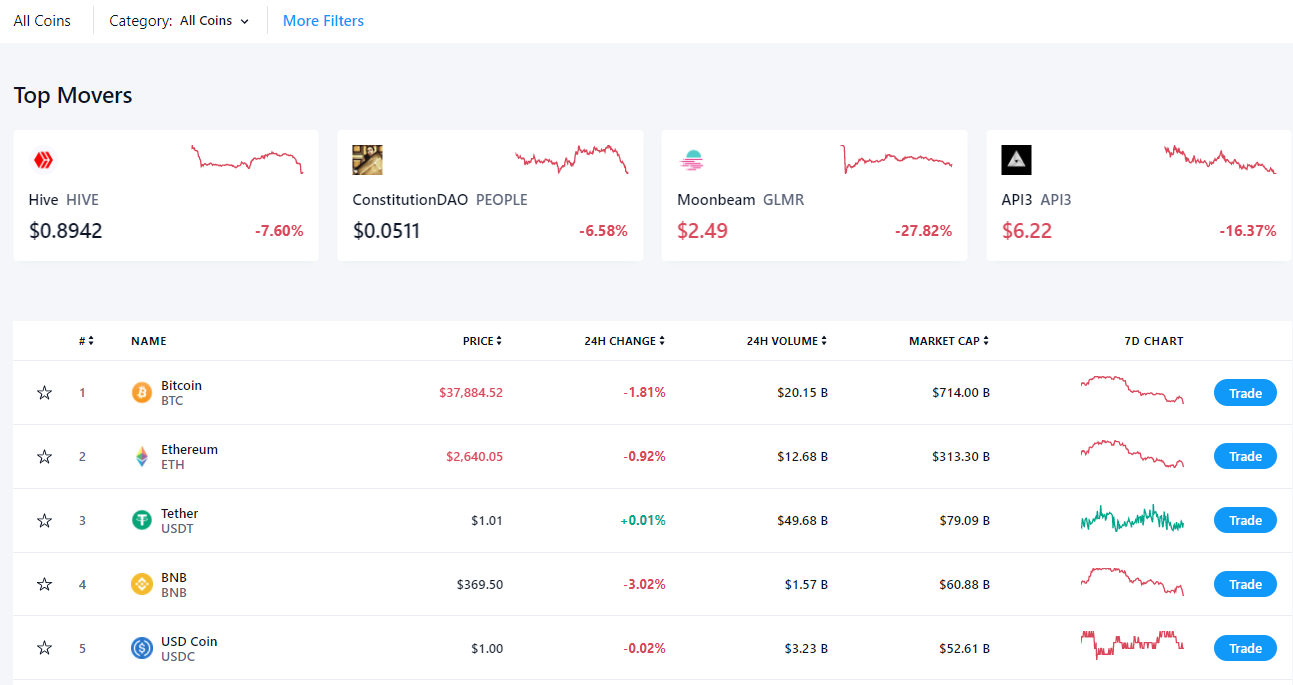 Crypto.com protects its customers' accounts from hacking and security failures by employing advanced security measures such as two-factor authentication (2FA) and whitelisting. This platform employs rigorous regulation and supervision and stores user deposits offline in cold storage to protect them from hacks or external cyber-attacks.
Regulation: N/A
Special Features: Ease of use, low fees, and a good collection of coins
Demo Account: N/A
Educational Material: Strong in this department
Fees: 0.04% to 0.4% maker fees, 0.1% to 0.4% taker fees
Minimum Deposit: $1
Volume: High trading volume
Deposit and Withdrawal Conditions: One can only transfer money to one's fiat wallet by means of a bank transfer; no cash deposits are accepted by Crypto.com
Payment Methods: Bank Transfer, Credit Card, Debit Card, Crypto Transfer
Pros
Up to 8.5% p.a. interest on Bitcoin
High security standards – ISO/IEC 27001:2013 ISO/IEC 27701:2019 PCI:DSS v3.2.1, Level 1 compliance
Supports variety of payment options
Has less transaction fees
Cons
Not regulated by many internationally recognized global bodies
Charges high spread fees
Does not offer crypto-to-crypto trading
Your capital is at risk
4. Capital.com – Top Bitcoin CFD Broker
Capital.com is another popular choice for traditional investors who are looking for exposure to the nascent crypto space. Based in Cyprus with operational offices in the UK, Gibraltar, and Belarus, Capital.com is one of the top Bitcoin brokers out there.
It offers over 3,700 financial assets spread across many indices, stocks, commodities, FX currency pairs, and over 200 cryptocurrencies. This is even more pronounced in its fee offering.
Capital.com is a zero-commission broker and offers market-leading spreads, thereby substantially increasing the investor's purchasing power.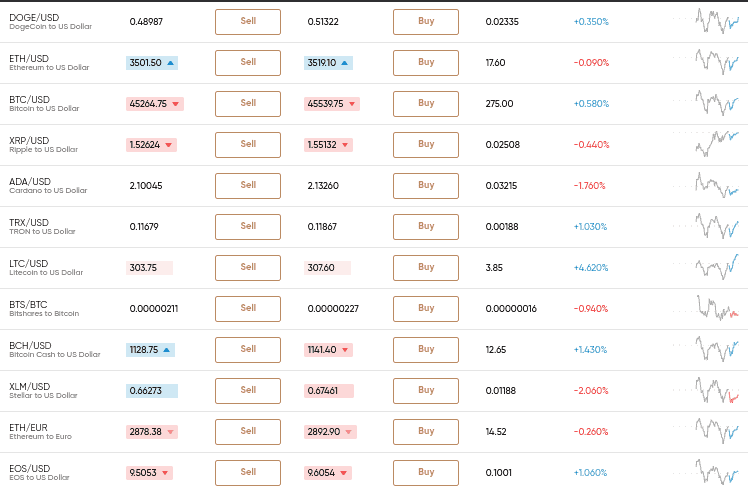 The account opening process is also seamless, as you can register and start trading in as little as 10 minutes. One of the best things you enjoy using the Capital.com platform is the low minimum deposit requirement, and users can get started with as little as $20, and Capital.com enforces a minimum withdrawal of $50. The Bitcoin broker supports CFD trading for several of its assets, including cryptocurrencies.
As per regulation and licensing, Capital.com is regulated by tier-1 global bodies the UK's FCA, CySEC, and the National Bank of the Republic of Belarus (NBRB). As per regulatory requirements, Capital.com segments users' funds from the company's operating income. Available in over 183 countries, Capital.com offers multiple everyday payment options, including bank wire transfer, Skrill, credit/debit card, Neteller, Union Pay, GiroPay, Sofort, and several others.
Regulation: FCA, CySEC, NBRB
Special Features: 3,700+ tradable assets
Demo Account: Yes
Educational Material: Not strong in this department
Fees: Zero commission and market-leading spreads
Minimum Deposit: $20
Volume: High trading volume
Deposit and Withdrawal Conditions: Takes 1 business hour to process withdrawal orders
Payment Methods: Bank wire transfer, Skrill, credit/debit card, Neteller, Union Pay, Sofort
Pros
Heavily regulated by top-tier bodies
Large repository of supported assets
High trading volume
Zero-commission and market-leading spreads
Low minimum deposit of only $20
Everyday payment methods
Cons
Does not support US customers
Charges overnight fees
Your capital is at risk.
5. Libertex – Legacy CFD Bitcoin Broker
Libertex has over two decades of offering financial investment services and is one of the top Bitcoin brokers in the industry. It offers different user-specific platforms, including the Libertex web trader for new users and the MetaTrader 4 (MT4) platform for more advanced investors.
In terms of supported assets, Libertex is very picky and only offers access to 250 tradable assets, including exchange-traded funds, CFDs, stocks, cryptocurrencies, FX currency pairs, and commodities. Each supported financial asset comes with a maximum leverage of 30:1, allowing users to increase their expected returns on investments reasonably.


Like other top brokers, Libertex is regulated by the CySEC and offers loads of everyday payments, including credit/debit cards, wire transfers, and e-wallet solutions or international bank transfers. Users also enjoy free deposits, and it has a low minimum deposit of 100 EUR.
The signing up process is seamless, and like all regulated brokers, new users are required to complete a KYC process. This usually takes little time and can be completed on the Libertex platform. Users will need to upload a copy of their driver's license or government-issued ID card and a recent copy of their utility bill or financial statement to get started.
Regulation: CySEC
Special Features: 2000+ financial instruments – including dozens of crypto pairs
Demo account: Yes
Educational Material: Doesn't offer much in the educational department
Fees: No trading commissions, Average spreads, free deposits and withdrawals
Minimum deposit: $100
Volume: Good trading volumes on its CFD and forex products
Deposit and Withdrawal Conditions: $100 if your balance exceeds this
Payment methods: Credit/debit card, e-wallets, bank transfer, Giropay, Trustly
Pros
Low spreads
Supports MetaTrader
No minimum withdrawal is balance under $100
Cons
Limited learning resource
Your capital is at risk.
6. Evonax – Seamless Crypto-to-Crypto Exchange Platform
Evonax is a popular Bitcoin exchange that facilitates the seamless swap of cryptocurrencies. It supports over 18 cryptocurrencies, including Bitcoin, Ethereum, Dash, Litecoin, and 14 others. One of the key benefits of using
Evonax is that it is anonymous in that it does not require users' details before they can exchange digital currencies for cash. The platform isit is free to use, and you can get started in as little as 5 minutes. Before transacting on the exchange, users are given personalized wallets secured with SSL encryption.
However, Evonax is not regulated by any known global body as it operates mainly as a non-custodial exchange, meaning it does not store users' funds. One of the key drivers of interest in Evonax has been the conversion fee.
The anonymity-focused non-custodial exchange only charges a small miner fee for the coins you want to swap into.
In addition, Evonax has great customer support and this may be the only time you will need to put your details.
Reaching out to the support team usually takes 1 business day and you will need to input your email address for feedback for any questions you have. Meanwhile, this might not be necessary as Evonax has a self-explanatory FAQ section to answer pressing questions.
Regulation: None
Special Features: Anonymity and free to use
Demo Account: No
Educational Material: Not explicitly stated
Fees Free
Minimum Deposit: Not stated
Volume: Reasonable liquidity
Deposit and Withdrawal Conditions: All transactions are conducted on the personalized wallet
Payment Methods: Fiat payment method
Pros
Ensures transactions done on the exchange are anonymous
Free to use
Low fees
Supports popular virtual assets
User-friendly and easy to use
Cons
Low crypto repository
Not regulated by any known global body
Your capital is at risk.
7. Coinbase – User-friendly Bitcoin Broker 
Since launching in 2012, Coinbase has become the most popular Bitcoin broker USA due to its top-notch attention to user-friendliness. It is a favourite spot for those looking to gain exposure to cryptocurrencies for the first time.
Coinbase has quickly established itself as a top Bitcoin broker based in the US due to its high liquidity and is second on the world's largest crypto exchange list behind Binance. Coinbase operates a tiered crypto exchange structure depending on the user.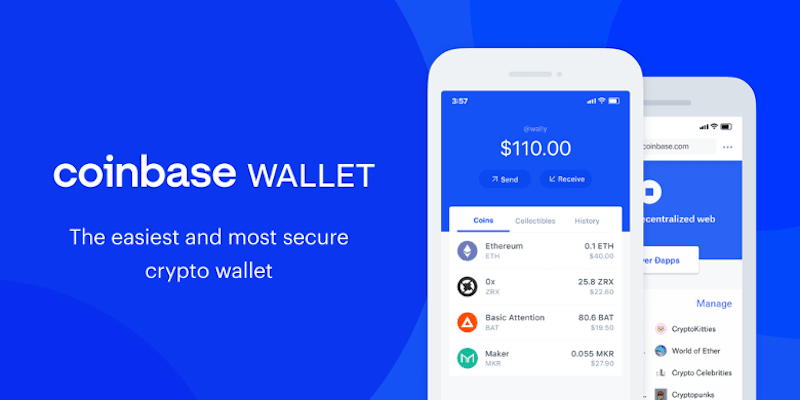 Aside from the beginner-friendly Coinbase platform, the company also operates a Pro variant that caters to more sophisticated retail clients. Then there is a custodial arm called Coinbase Custody that serves as a cold storage unit for companies interfacing with digital assets. The Coinbase Prime is the Pro version for institutional clients and comes with more sophisticated research and charting tools.
Like several others, Coinbase supports multiple deposit and withdrawal methods, including bank wire transfer, debit cards, PayPal, Faster Payments, and several others. However, it charges variable deposit and withdrawal fees depending on the option a user picks.
Regulation:FINRA
Special Features: Offers over 50 altcoins support
Demo Account: No
Educational Materials: Not strong in this department
Fees: Variable pricing systems
Minimum Deposit: As low as $2
Volume: High liquidity
Deposit and Withdrawal Conditions: Instant withdrawal options on particular options
Payment Methods: Bank account, debit card, PayPal, Faster Payments
Pros
Publicly-listed Bitcoin broker
Highly user-friendly
Offers several platforms for different users
Multiple everyday payment options are on tap
Highly liquid Bitcoin broker
Cons
Charges high fees for its beginner platform
Doesn't support credit card transactions
Your capital is at risk.
8. Binance – World's Leading Peer-Peer Crypto Exchange
Binance is a cryptocurrency exchange founded in 2017, and it has the reputation of being the world's foremost crypto exchange platform. Apart from having crypto assets, it also has an academy, its native cryptocurrency called Binance Coin (BNB), its own issued stablecoin (BUSD), and a smart contract network known as Binance Smart Contract (BSC).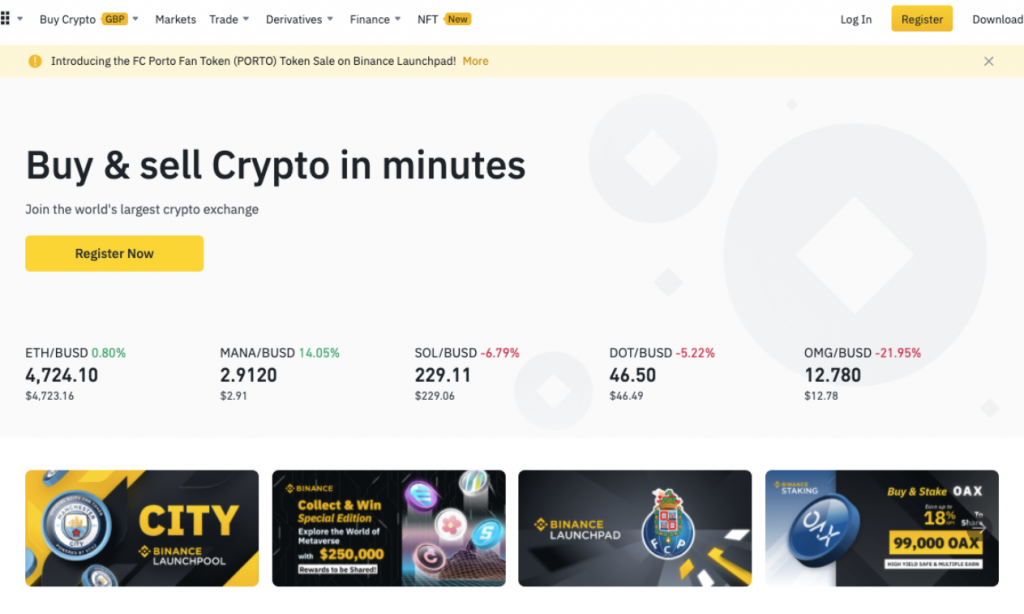 In addition, the platform also has a Launchpad and many other innovations that make it enjoy huge traffic, making it one of the top Bitcoin exchange platforms. The firm is licensed in West Africa, South America, Australia, New Zealand, Western and Northern Europe. The company enjoys a whopping 2 billion average daily volume of trade.
The Binance Smart Contract (BSC) is a far cheaper alternative to Ethereum (ETH), and this has attracted many users to the platform. Binance does not charge deposit fees, but a small fee is charged for withdrawals. The exchange also has a plethora of cryptocurrencies available coupled with a wide range of trading pairs.
Regulation: Seeking license in Singapore
Future trading: Yes
Demo Account: No
Educational Material: Plenty of resources
Fees: 1% withdrawal on EUR, 0 for USD
Customer base:  Over 3 million users
Minimum Trade: $10
Volume: High liquidity
Deposit and Withdrawal Conditions: Free deposits, withdrawal attracts a small fee
Payment Methods: Bank transfer, Credit cards, Debit cards, plus other methods
Pros
Well-known
Easy to use platform
Factor Authentication (2FA) Login
Cons
No formal address or head office
Not licensed in some regions
Your capital is at risk.
9. Uphold – Best For Trading Between Different Assets Classes
Uphold, a multi-asset platform that was founded in 2015, is already available in over 184 countries. The firm has over 80 currencies on offer, including traditional stock and cryptocurrencies, making it one of the best Bitcoin brokers.
The popular platform enjoys the patronage of over 1.7 million customers globally, and it has carried out transactions close to $6 billion to date. Both retail investors and businesses are part of the categories of people that it serves.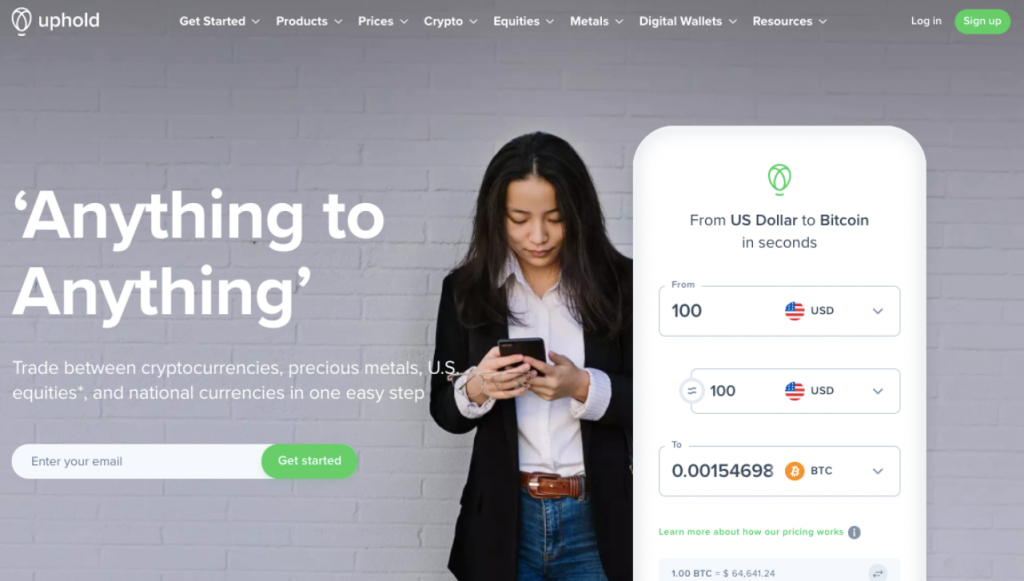 You can also trade precious metals, US equities and gold, on the platform. Its main aim is to provide people access to safe, transparent, fair, and affordable financial services. The firm is very easy to use and does not charge any fee for deposit and withdrawal.
It offers automated trading for buying or selling orders to reduce the impact of volatility.
With Uphold, you can send money (either Bitcoin or USD) directly for free to anywhere in the world. It has a unique debit card that can earn you 1% cashback and 2% crypto reward.
Regulation:  35+ countries with bank connectivity
Demo Account: No
Educational Material: Not many learning resources
Fees: 0.8- 1.2% spread for ETH/BTC in US and Europe, 1.8% for others
Customer base: Over 3 million users
Payment Methods: Credit cards, Debit cards (the US only)
Pros
Varieties of stocks and cryptocurrencies
Easy to use platform
Automated trading
Cons
Equities not available in the US and Europe
Deposits from bank accounts available only in the US and Europe
Your capital is at risk.
10. AvaTrade – Best For Numerous Trade Options
AvaTrade is a trusted global brand that offers Contracts for Difference (CFD), Cryptocurrencies, and Forex services.
The top Bitcoin broker is user-friendly, and anyone, even a newbie, can easily open an account within a few minutes. About 300,000 registered users currently use its services in six different continents, where it has seven regulations after meeting all registration requirements.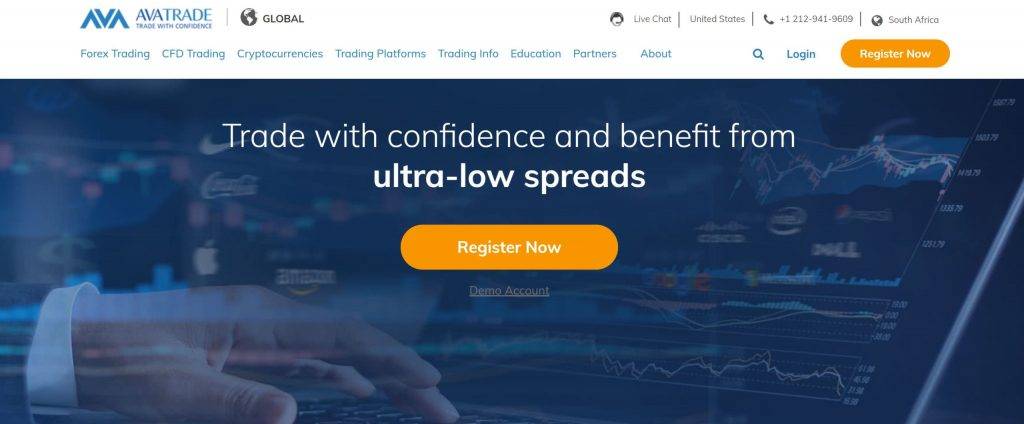 It is very transparent in all its dealings and is also known for being highly secure. It has been in operation since 2006.
It pioneered online trading, and It also has some amazing trading platforms such as MetaTrader (MT) 4 and MT5, and its trading website is available in more than 20 languages. This broker is known to have a customer-first attitude to business, and integrity is very important to them.
The broker also has demo trading on offer. Users can choose from a wide range of cryptocurrencies that the platform offers. AvaTrade, a Bitcoin broker USA, charges zero commissions, and you do not have to pay any bank fees on transactions.
Regulation: Europe, Australia, Japan, British Virgin Islands, UAE, and South Africa.
Demo Account: Yes
Educational Material: Trading videos and other educational materials for beginners
Fees: $0.9 spread for EUR/USD, Administration fee $100
Stability: Being in operation since 2006
Volume: High liquidity
Deposit and Withdrawal Conditions: $1,000 minimum deposit
Payment Methods: Wide selection of safe and secure payment methods
Pros
Multiple licenses
Supports MT4& MT5 trading
Secured platform
Cons
No traditional stock
Inactivity fee of $50
Your capital is at risk.
11. Revolut – Most Inclusive Bitcoin Broker US
Revolut is an inclusive Bitcoin broker that allows users to access their virtual and physical assets through virtual cards. Revolut grants its users the ability to track both physical assets (fiat currencies) and virtual currencies ( cryptocurrencies) on the same wallet.
The virtual cards enable the users to make fiat currency ATM withdrawals and pay for items online using their crypto assets. The platform uses a simple debit/credit card as its standard payment method. Revolut offers its users several packages to further suit the specific needs of users.
Among these packages is the Extensive Premium feature that grants subscribers a higher ATM withdrawal limit of 400 euros per month than the 200 euros withdrawal limit applicable to standard and plus users.
Premium users also enjoy a lower crypto conversion rate of 1.5%, compared to the 2.5% rate for standard and plus users. Revolut does not charge its users a deposit or withdrawal fee and supports up to 53 cryptocurrencies.
The fintech platform is a representative of Resolution Compliance Ltd and is licensed and regulated by the Financial Conduct Authority in the UK.
Regulation: Regulated by the FCA
Special features: Utilizes cold storage promotes safety for users' funds.
Demo Account: No
Educational Material:  Offers access to educational content to minors by its Revolut Junior package
Fees: Subscription fee is free, first Revolut card free, but a delivery fee applies
Minimum deposit: No minimum deposit
Volume: High volume
Payment Methods: Debit/credit cards
Pros
No minimum deposits
Extensive Premium features
Cold Storage for user assets
Cons
Limited withdrawals
Incessant account freezes
Your capital is at risk.
12. CryptoRocket – Best Bitcoin Broker for Trading
CryptoRocket is regarded as one of the best Bitcoin brokers for trading because the platform has a wide range of crypto assets, making it easy for users to trade various crypto pairs on the market.
The platform grants its users access to one of the most extensive forex pairs, commodities and indices on the market. This feature opens the users up to a wide range of trading options and access to various markets.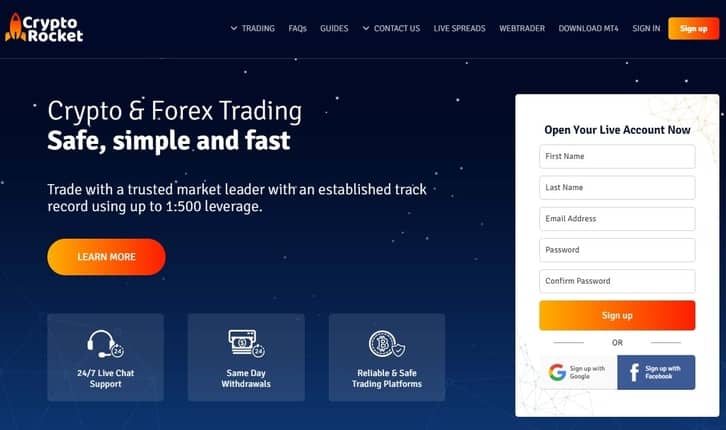 CryptoRocket utilizes MetaTrader4, which gives access to various trading instruments and the ability to trade in over 55 fiat currencies, 34 cryptocurrencies and 11 indices options. Although the Bitcoin broker is not regulated by any financial body, it takes the security of its users very seriously as it segregates broker funds and uses cold storage for BTC accounts to store funds on an external storage platform.
This top Bitcoin broker allows the use of debit/credit cards, wire transfers and accepts deposits in bitcoin from other bitcoin brokers or exchange platforms. It employs the Straight Through Processing (STP) execution which protects user trades from being re-quoted or manipulated.
Regulation: No
Special features: Grants users access to MetaTrader4 for optimal trading experience
Demo Account: Yes
Educational Material: Minimal educational resources
Fees: No deposit or withdrawal fees
Minimum deposit: No
Volume: High trading volume
Depositing and Withdrawal conditions: When depositing funds, users must bear in mind that the Cryptorocket charges no fees, but a small network fee may be deducted when depositing assets less than $10USD
Payment Methods: Wire transfer, debit/cards, bitcoin deposits
Pros
No minimum deposits
Wide range of trading assets
No trade manipulation
Cons
No regulation
Little to no educational content
Your capital is at risk.
13. Changelly – Easy to Use Platform
Changelly is a bitcoin broker that offers its users fast and secure transactions
One of the perks of Changelly that makes it one of the top Bitcoin platforms when it comes to ease-of-use is that opening an account is extremely straightforward and one need only connect their existing account when using the mobile app which is as easy as imputing the correct email and password used to open the account.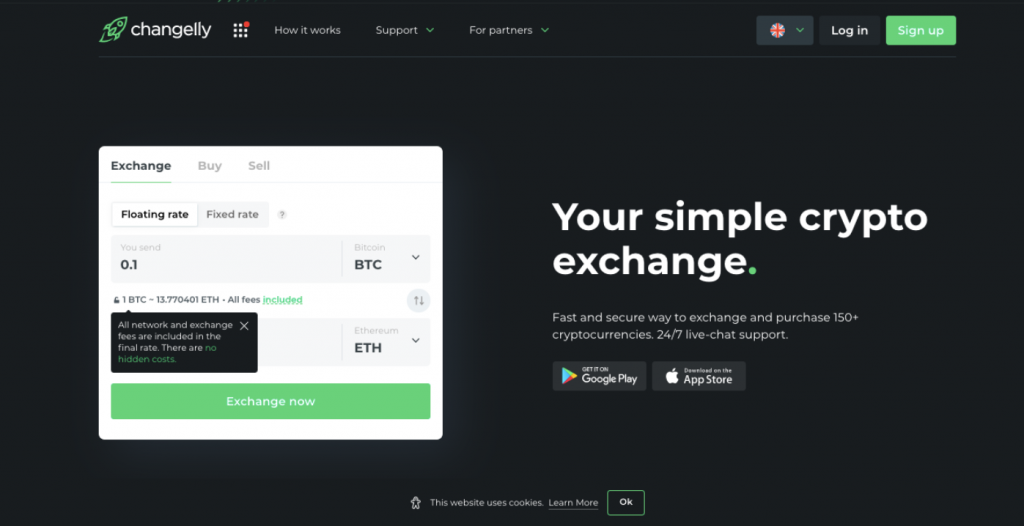 Changelly is a non-custodial platform, meaning that it does not store users' money or funds; rather, it partners with other platforms which serve as wallet providers such as Trezor, Trust wallet etc.
The exchange makes use of Apple Pay, credit/debit card and bank transfer as payment methods. It is anonymous, adopting only email addresses for identification.
Changelly offers users access to up to 200 cryptocurrencies and accepts only three fiat currencies which are the US Dollars (USD, British Pounds (GBP) and Euro (EUR).
Regulation: Not regulated in the US
Demo Account: No
Educational Material: Changelly offers a crash course to help its users understand more about the cryptoverse
Fees: 0.25% floating exchange rate. 5% rate to buy or sell cryptocurrencies using fiat currencies
Volume: High volume on its CFD
Volume: High trading volume
Payment Methods: Bank transfer, credit/debit card, Apple Pay
Pros
Integrates with various wallets
Easy to Use
Wide range of cryptocurrencies
Cons
Not regulated in the US
High fiat to crypto rates
Your capital is at risk.
Compare Bitcoin Brokers & Exchanges
What to Look for in a Bitcoin Broker
With heaps of Bitcoin brokers now active in the online space, knowing which platform to sign up with can be challenging. No-two brokers are the same, so you need to think about what your priorities are. For example, are you looking for cryptocurrency exchanges that accept e-wallets, or are you more concerned with low trading fees?
Either way, below we have listed the most important factors that you need to look out for prior to choosing a cryptocurrency broker.
Did you know that the vast majority of Bitcoin and cryptocurrency brokers operate in an unregulated manner? While in most cases this shouldn't be an issue per-say, we would suggest sticking with brokers that hold a license from a tier-one body. Think along the lines of the UK's Financial Conduct Authority (FCA) or CySEC in Cyprus. ALl of the brokers listed on this page are regulated, so rest assured that your funds are safe.



Supported Cryptocurrencies
If you're only looking to buy and sell Bitcoin, then you'll have no problems locating a suitable broker. However, what happens if you want to buy Ethereum and invest in other cryptocurrencies like Ripple, or Bitcoin Cash? Crucially, you need to check the broker's website prior to signing up to see what cryptocurrencies they allow you to buy and sell.  
If you're looking to buy cryptocurrencies for the very first time, you will need to use a broker that supports fiat currency. At a minimum, this typically includes support for a bank transfer. With that said, it's far easier to use a debit/credit card or e-wallet, as you'll be able to instantly buy Bitcoin with a credit card.



Trading Fees and Commissions
Bitcoin brokers are in the business of making money, so you'll need to pay a fee when buying and selling cryptocurrencies online. In the vast majority of cases, this comes as a trading commission. For example, if you wanted to purchase $500 worth of Bitcoin and the broker charges 1.5%, you'll end up paying a commission of $7.50. Stick with low fee brokers to reduce your trading costs.



Leverage and Short-Selling
If you're planning to apply leverage to your cryptocurrency trades, then you'll need to use a CFD broker. In doing so, you'll also have the ability to short-sell Bitcoin. This means that you will make a Bitcoin profit if the price goes down.



Minimum Deposit and Withdrawal Fees
Some cryptocurrency brokers install a minimum deposit amount. You should check this before joining a new broker to ensure that it meets your budget. Similarly, you also need to check whether a withdrawal fee is charged. This is likely to be the case if you are planning to withdraw your profits back to a debit/credit card.
If you're looking to buy and sell cryptocurrencies online, you'll need to use a broker that is home to high levels of liquidity. This will ensure that you are able to trade at competitive market prices. If your chosen Bitcoin broker doesn't have sufficient trading volumes, you might struggle to sell your coins.
You also need to explore what the cryptocurrency broker's customer support team is like. For example, check to see what hours you can speak with an agent, as well as the types of support channels offered (live chat, telephone, etc.).
Note: If you're simply looking to buy Bitcoin and store it long-term, you should choose a provider that allows you to withdraw coins out. In this sense, a CFD broker will not be suitable, as you won't own the underlying asset. 
eToro allows you to buy and hold the underlying asset in a free Bitcoin wallet. If you decide to diversity into other coins, some cryptos can earn you passive income in the form of staking rewards. You can stake Ethereum (ETH), Cardano (ADA) and Tron (TRX) on eToro.
Cryptocurrency Brokers – Final Thoughts?
Knowing which cryptocurrency broker to buy Bitcoin from can be challenging, not least because there are hundreds of platforms active in the space.
With that said, we hope that you now have a firm grasp of the many factors that you need to look out for prior to parting with your cash. This includes factors like regulation, trading volumes, payment methods, fees, commissions, and supported coins.
If you don't have time to research a broker on a DIY basis, we've also listed our top Bitcoin brokers of 2022. At the forefront of is this eToro, as the broker is ideal of newbie traders, allows you to buy cryptocurrencies without paying any commissions, and heaps of everyday payment options are supported.
Regardless of which broker you decide to sign up with, just make sure that you understand the risks of investing in cryptocurrencies.
eToro – Our Recommended Bitcoin Platform
Regulated by the FCA, ASIC and CySEC
Buy Bitcoin with Bank transfer, Credit card, Neteller, Paypal, Skrill
Free Demo Account, Social Trading Community – 20 Million Users
Free Bitcoin Wallet – Unlosable Private Key
Copytrade Winning Bitcoin Traders – 83.7% Average Yearly Profit
68% of retail investor accounts lose money when trading CFDs with this provider.
FAQs
What Is a Bitcoin Broker?
A Bitcoin broker is a platform that facilitates the seamless buying and selling of the foremost decentralized currency. However, it is not only focused on Bitcoin and often enables the purchase and sales of several other popular cryptocurrencies.
Do You Need a Broker for Bitcoin?
This entirely depends on you and how experienced you are with cryptocurrencies. For now, cryptocurrencies are still highly complex transactions, and many users have lost fortunes due to the knowledge gap. If you are planning to buy Bitcoin or any other virtual currency for the first time and have no prior knowledge on how to do it, we recommend using a Bitcoin broker to do so.
Who Is the Best Broker for Bitcoin?
Making a designation on who the best Bitcoin broker is is a tough call as each Bitcoin broker comes with unique features, offers, and functionalities. However, we recommend using eToro due to its low-cost, secure platform and highly intuitive platform. Also, its CopyTrade functionality will ensure you make returns on your crypto investment even if you have little to no knowledge on how the industry operates.
Are Bitcoin Brokers Safe?
This depends on whether or not your chosen Bitcoin broker is regulated. If it isn't, you should avoid it at all costs. Crucially, all of the cryptocurrency brokers listed on this page hold at least one license with the likes of the FCA, CySEC, or ASIC.
What Payment Methods Do Bitcoin Brokers Support?
If you're using a cryptocurrency broker that supports fiat currency deposits, then this should include a bank transfer or debit/credit card. Some brokers even support popular e-wallets like Paypal, Skill, and Neteller.
Can I Buy Bitcoin anonymously From a Bitcoin Broker?
Usually irrespective of whether or not the cryptocurrency broker is regulated, if you're looking to use fiat currency to invest you will need to have your identity verified. As such, you'll need to upload a copy of your passport or driver's license. Unless using a simple in-browser platform such as Uphold or Changelly.
What Is the Minimum Deposit Amount at Cryptocurrency Brokers?
This will vary from broker-to-broker. You can deposit just $50 with some of the Bitcoin brokers that have been recommended on this page.
Do Cryptocurrency Brokers Allow You to Apply Leverage?
If you've got a higher appetite for risk and thus – you wish to apply leverage, you will need to use a CFD broker that supports cryptocurrencies. Certain limits will apply if you are a retail trader.